You may think that creating a landing page is straight-forward. Let's be honest—it's not rocket science but it does take a bit of work in order to perfect it.
The aim of your landing page is to give the end-user exactly what they need, ask yourself 'What does the user come to my site for? What do they need? What do they want?'
This will help you to come up with a list of important elements and pieces of information to help you design a high converting website landing page.
What is a Landing Page?
The main goal of a great landing page is to increase your conversion rates which helps you to grow your business and smash your sales targets. A landing page can be many things, from a homepage to another single page created for a specific campaign, product, or sale.
A landing page is usually promoted through Google Ads or similar advertising services, and the page has been created for one reason: to generate leads or increase sales!
Benefits of a good landing page.
A good landing page has many different benefits as well as increasing conversion. Here are a few examples:
Increasing your website's SEO Ranking
First and foremost a landing page helps to improve your overall SEO. A good landing page can make it possible for you to target certain keywords and search terms which in turn will help you to get more users coming to your site. There are a load of innovative ways of promoting your site via Google Ads and other paid methods. Promoting your landing page will ultimately 'up' your domain authority, and improve your website's organic ranking to get your product, promotion, or company seen by a much wider audience.
Advertising or promoting an upcoming sale, event or product.
A landing page can be created to increase the coverage of a new product, event, or sale.
Making the buying process more efficient
A good landing page is there as a hub to move visitors down to where they need to be. Instead of risking losing sales or potential customers who may miss your call to action, you're making sure they get to where they want to go effortlessly with very clear and obvious banners, and sections. This will help with conversion!
6 Essential Landing Page Elements.
1. Appealing aesthetics
Giving your page a stunning UI will help visitors to your site want to stay and browse. This is because nobody wants to spend time looking at an ugly website, do they? A clean design will help visitors to learn more about your company, or product and thus help them see evidence of value in your offering. 87% of a customer's first impression of your businesses website comes from your design!
2. An informative headline
Content writing is one of (if not the) most important aspects of any landing page, clear and concise copy helps the user understand what you're about and what you're offering straight away.
3. Intuitive sub headings
An intuitive subheading, coupled with a great headline is key to make it clear what you do and what you're about to a user once they land on your website. Subheadings are a way of helping a user gather all the necessary information without having to read the entire copy. Which is great for conversion.
4. Effective photography
Photography can make or break a great landing page, it can be the difference between:
a user enjoying their experience on your site, trusting you and buying your product
to them not liking your site, feeling you're not legitimate and leaving promptly
Never cut corners on your photography, and if you can't afford a professional photographer, there are a load of royalty-free sites out there for you to find the perfect images.
5. Methods of contact
Make sure your landing page has plenty of ways for the customer to convert, these could be links to your contact page, links to subscribe or links to find out more. It's important to remember that it's great getting users to land on your site but you still need them to convert. Oh, and inbound links are also great for SEO 🤩
6. Quality guarantee
It's important to gain the user's trust, and convey your human side. It's no secret that conversion rates can plummet when there's no trust in your brand.
Examples of amazing Landing Pages
Shopify
Shopify has absolutely smashed it with their landing page. They have CTA's in all the right places, fantastic use of headings and subheadings and showcase the human side of their business by promoting the sellers that use their E-Commerce platform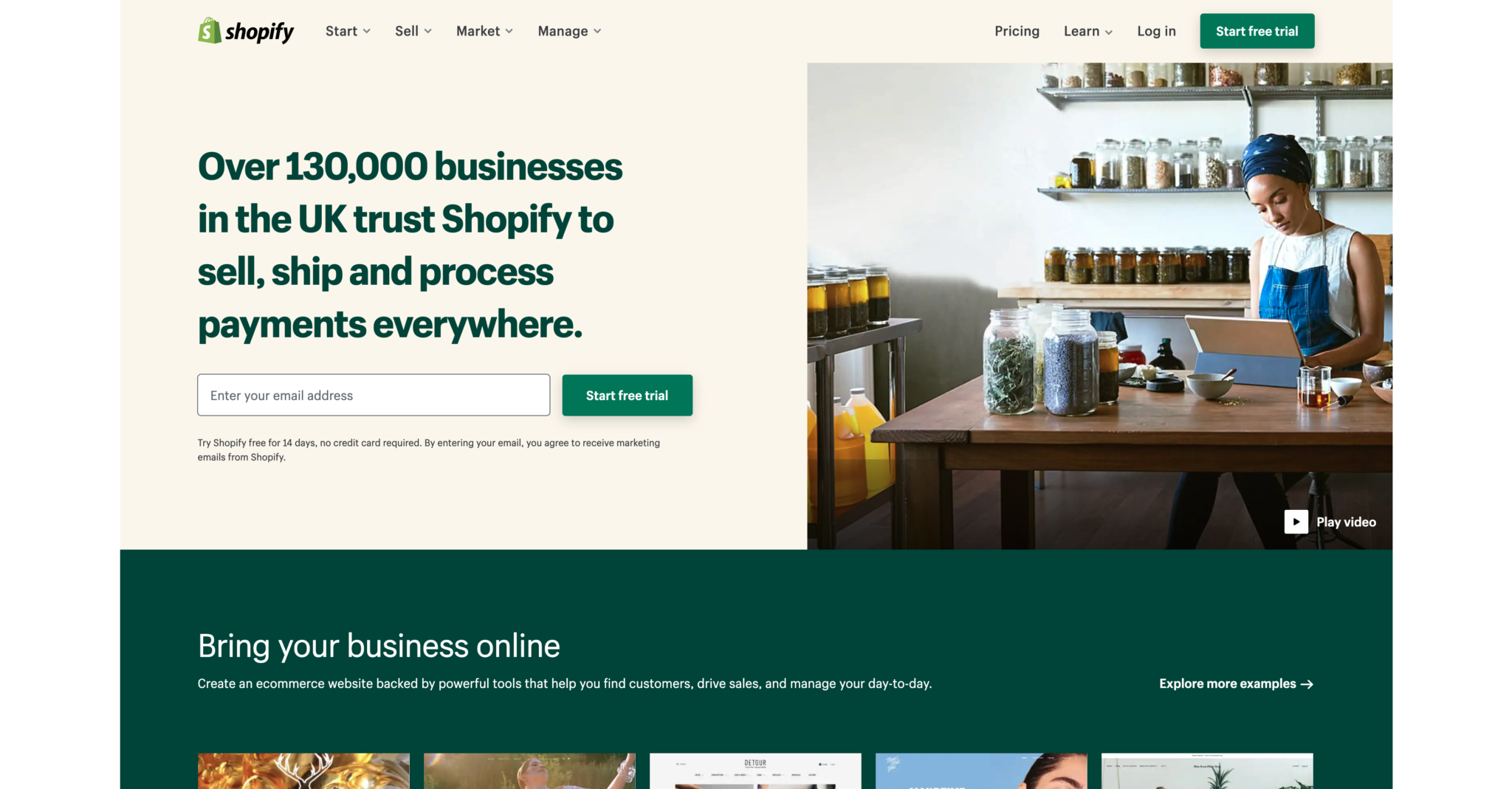 Craft CMS
Craft CMS is another great example of a high converting website landing page. With well placed CTAs, stunning design and clear copy, they showcase the CMS perfectly and provide the customer with a clear journey on installing Craft CMS.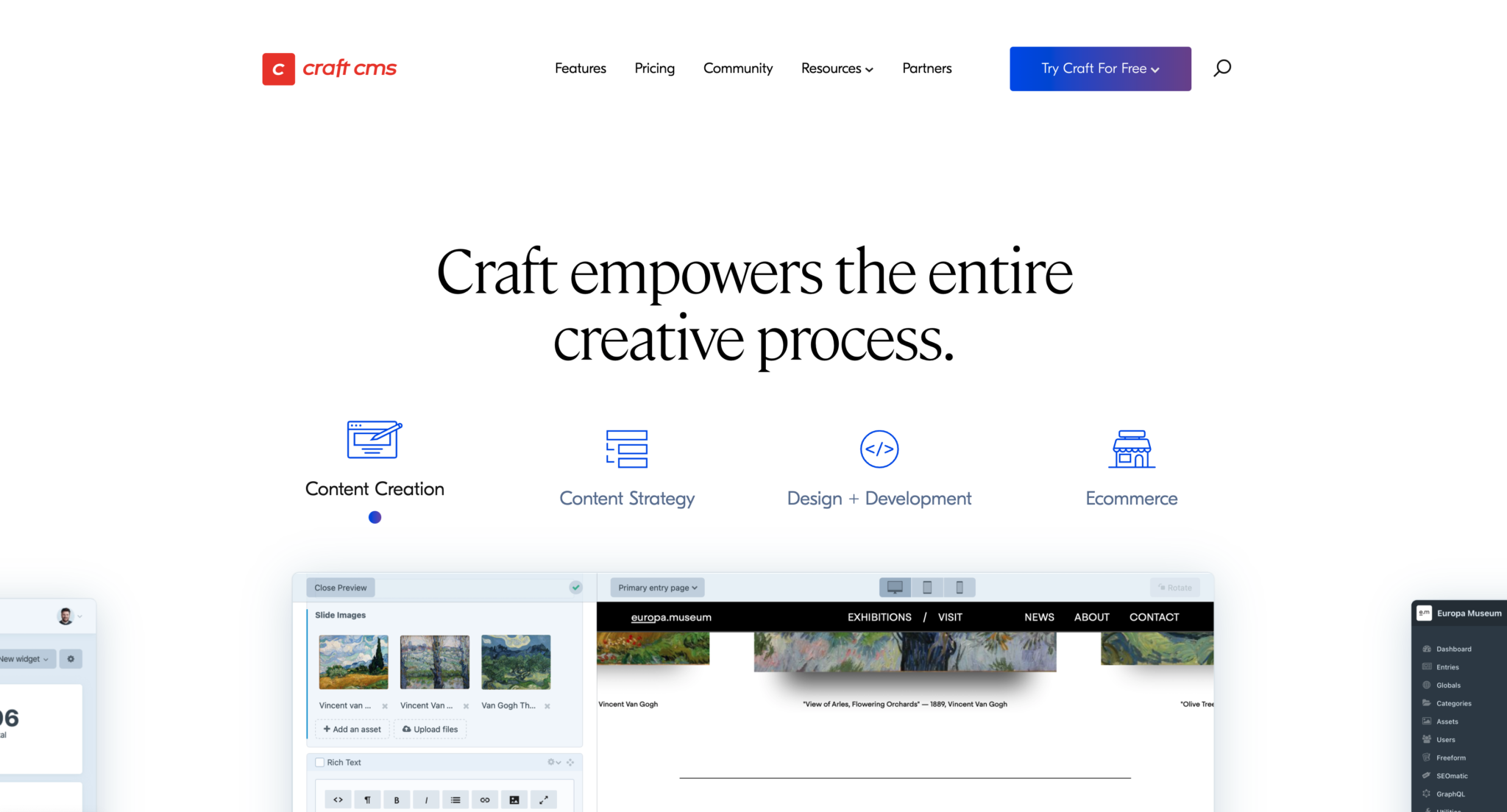 Smarta Create
Without tooting our own horn too much, our sister agency, Smarta Create's landing page ticks every box in terms of content, photography, trust, SEO and many other things. The landing page covers just about every aspect of our studio from what we do, to who we are all with brilliant content and clear CTAs.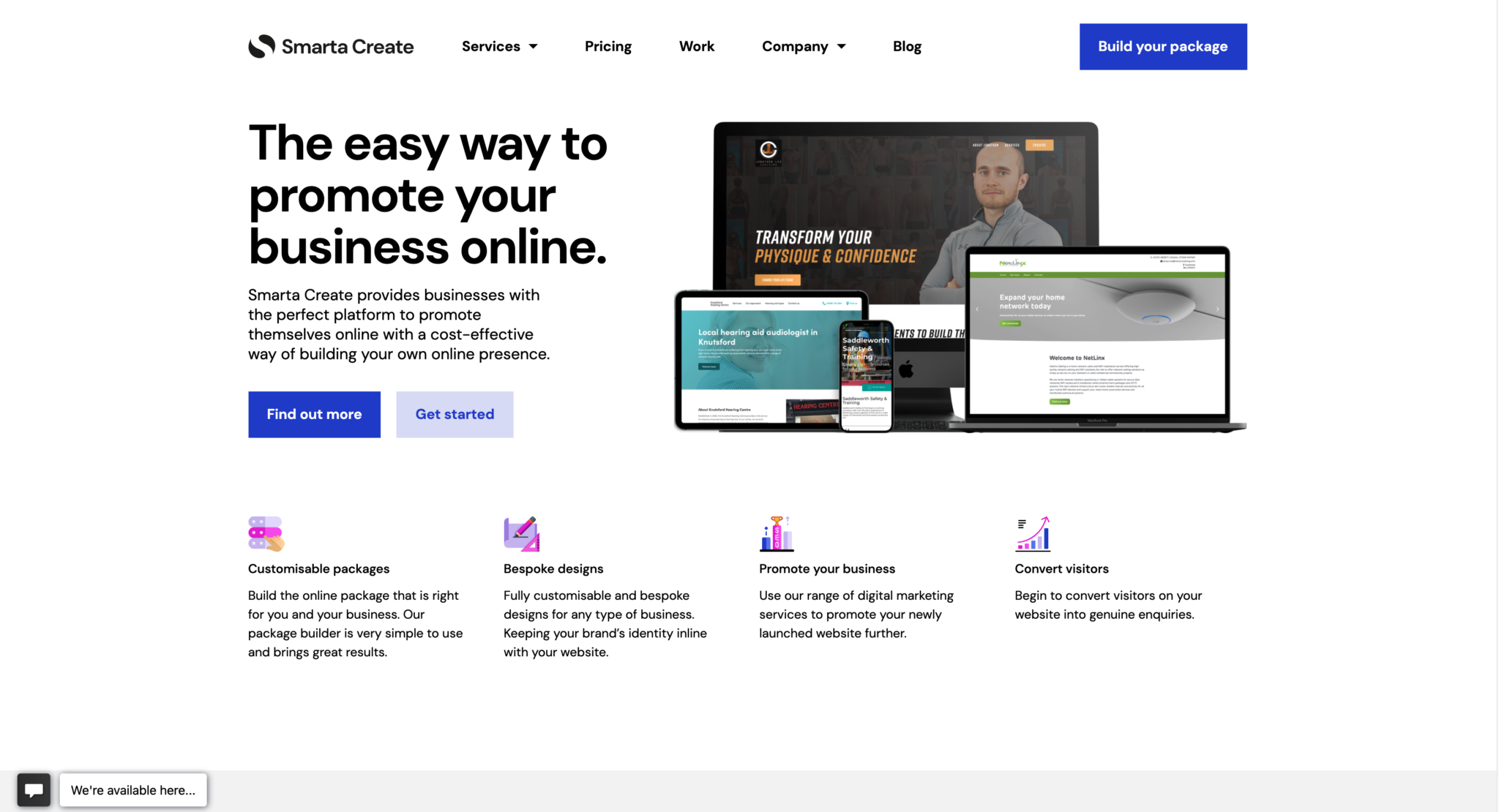 Conclusion
A landing page is a really great way of getting users not only to your site, through effective SEO but also a way of showing off your business in a unique way to you. It can be a playful homepage with lots of fun illustrations and content or a more serious professional style of page. Whichever style fits your business best, I'd suggest thinking of ways to create a great, high converting homepage from some of the tips above.
Do you need help creating a high converting website landing page? Why not get in touch and we'll help you along the way.